Extremely quickly absorbed sun sprays with SPF 30




from your innovative cosmetics manufacturer from Germany.
9 different creations of "Invisible Mist" / "Invisible Mist"
Standard SPF 30 (SPF 10 to 50+ possible)

Different degrees of regreasing

Various caring effects

No preservation necessary

With perfume "watermelon", however other perfumes are possible according to customer requirements
Your contract manufacturer for cosmetics in Germany
However, the sun sprays differ in their moisturizing effect. Lotion 1 is the "driest" variant. Immediately after application, the lotion is no longer perceptible on the skin, although full sun protection is still available. Lotions 2 to 9 contain higher proportions of nourishing emollients and lead to "nourishing" (= regreasing) haptic impressions.

The recipe is designed so that no preservation is required. The patterns you have are perfumed with a watermelon scent; it is possible to add another perfume oil of your choice. It is also possible to formulate modified SPF (SPF 10 to SPF 50+).

Order your 9-piece sample set, each with 5ml, for a flat fee of € 50.00. You can then immediately select your immediately moving, invisible and highly effective sun spray and order it from a minimum quantity of 30kg. Further modifications and special services are possible at any time for a fee.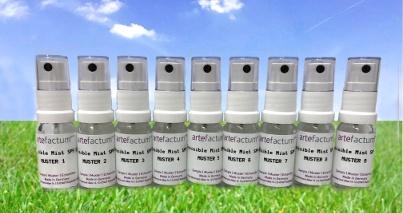 This cosmetic production is as always - 100% Made in Germany.
Are you interested in our Invisible Mist?

Give us a call

03672-426120

or write us an email
This email address is being protected from spambots. You need JavaScript enabled to view it.
or
Contract manufacturer cosmetics